If you are going to buy a budget and cheap laptop. The Lenovo Ideapad 3 is a budget laptop. It comes with the AMD Ryzen 4300U Processor which is a budget segment CPU. It has quite good specs on paper Lat's see what you should realistically expect from this thing.
Build and Design Of Lenovo IdeaPad 3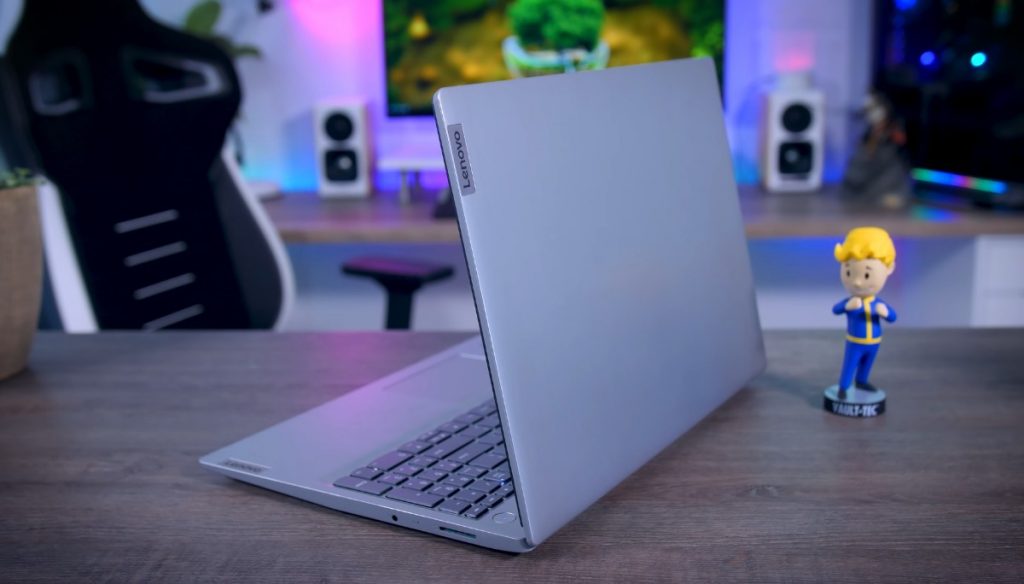 The Lenovo Ideapad 3 is a pretty good-looking laptop with its light silver brushed aluminum look and a very discreet logo on the side. The Panels are made by plastic but it looks very clean & modern and it should have no issues fitting in that professional environment.
In terms of size, it's a pretty standard 15-inch laptop. It is not the smallest one out there but it thin and light enough to carry around. Now the build quality is not really amazing as you would expect from an old plastic budget laptop it feels fine if you just handle it normally but there is quite a bit of flex in all panels both inside and out. The hinge feels all right it doesn't feel like it will break anytime. You will need two hands to open it up and that gets you to one of the nicest budget laptop keyboards.
Display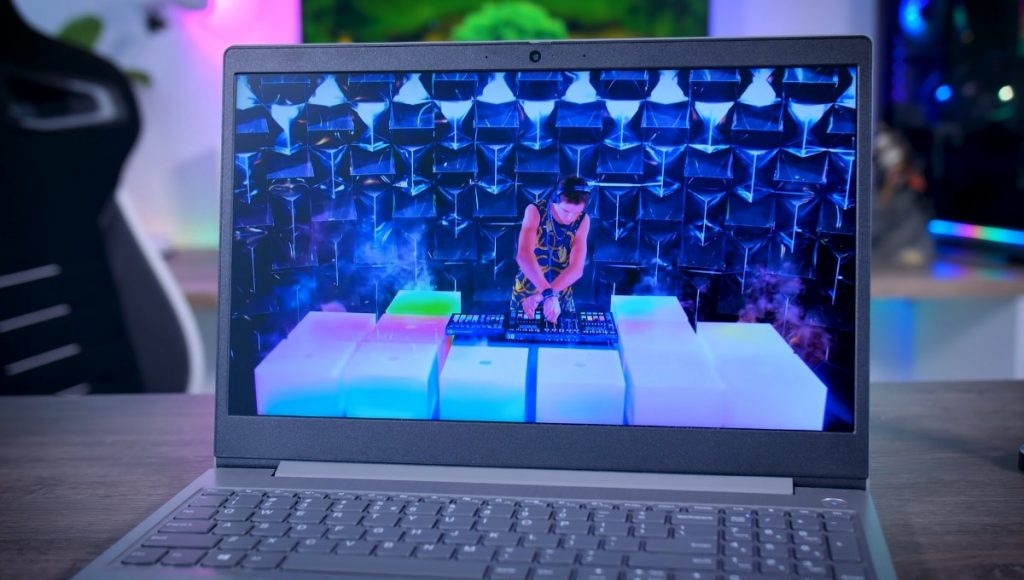 The Lenovo Ideapad 3 comes with a decent size 15.6-inch FHD TN Panel with a peak brightness of 234 nits. So that's just good for indoor use but it is completely unusable in any remotely bright environment, SRGB color gamut is 55% meaning that the color will look quite washed out as it just you know cannot display all the colors as needs. As a result of that, the color accuracy is pretty bad as well so even though the CPU can handle it. There is no way you could do any kind of photo or video editing using this screen.
This panel might be able to handle some office use. It might be fine for browsing in a bit of gaming so if this all you can afford. It will be usable but if you can add a bit more to your budget I do recommend getting a laptop with a better panel than this one.
Keyboard & Touchpad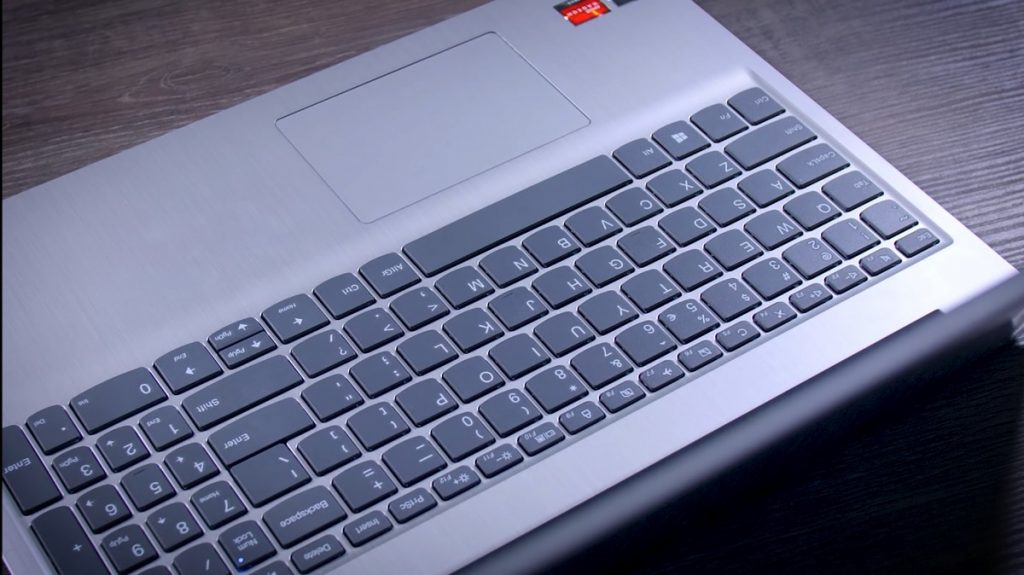 Let's Talk about the keyboard of the Lenovo Idea pad 3. It does look a bit old school with a large font and no backlight and even feels a bit old with a long travel distance and that clickety feeling but that actually makes it extremely pleasant to type on. Now I normally use mechanical keyboards and I found this to be easier to get used to than most premium thin laptops. So it is not fancy in any possible way but on a budget laptop. I'm really happy to find a keyboard that offers that good feedback. The Numpad than a modern-looking keyboard that is too light to touch. The touchpad isn't that bad either so don't expect a premium touchpad experience but I have definitely seen worse so I will give it a pass only.
Also Checkout: Laptops under 100
Performance
Now talk about the performance of the Lenovo Ideapad 3 comes with the AMD Ryzen 3 4300U processor. It is a 4 core and 4 thread CPU that is actually surprisingly capable. It outperforms the intel ice lake CPUs you'll find in the much more expensive Dell XPS 13 or Razer Blade Stealth. And I would say perform similarly to an 8th gen intel core i7 and even previous generation Ryzen 7 CPU so that's enough to handle some photo editing or even some light video editing and if you consider this laptop as a school laptop. It will handle most of the applications you need just fine. I do think it's worth looking at a 4000 series Ryzen 5. If you can afford it but for a budget system this is a completely fine processor.
Let's come to gaming performance the laptop doesn't have a dedicated GPU but the built-in graphics of these Ryzen CPUs are good enough to let you play an occasional game or two in your spare time. Now of course you can forget about any AAA titles but a lighter game like Minecraft like League of Legends Overwatch and CS Go can definitely be played at least at that casual level.
I/O AND PORTS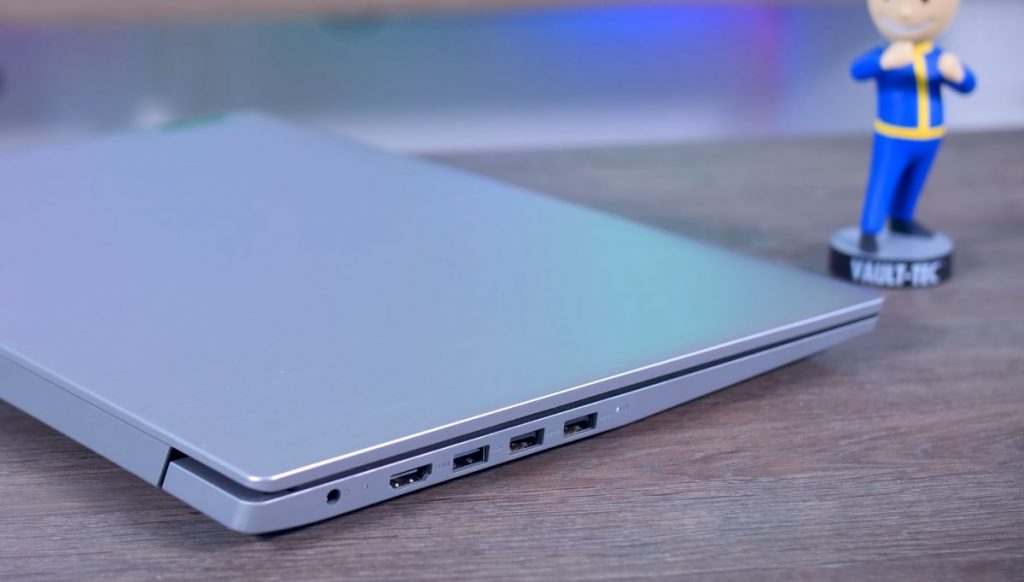 The Lenovo Ideapad 3 has a one HDMI Port, one USB 2 type A Port and Two USB 3 Type A Ports on the left side and a USB 2 Card reader and an Audio jack on the right side. So there are no USB Type-C Port, there is no thunderbolt support and there is no Ethernet connection. You feel the shortage of the ports in this.
Webcam
The Lenovo Ideapad 3 comes with an in-built webcam. The webcam is not the best but it is good enough for video calling, online classes, and conferencing, etc. It is also has a privacy slider that turns the webcam on and off so there is no need for those silly stickers people usually like to use over their webcams.
Battery
The Battery life really isn't that bad at all close to 5 hours in PC mark productivity test and 6 and a half hours of watching Netflix.
Verdict
I hope you will like that review of the Lenovo Ideapad 3. If you are looking for a laptop for Photo or Video Editing so you should this one and buy another one so you can get a good display. But if you don't want to spend more so you can buy that one also. If you have any suggestions related to our article so do comment and also DM us on our social media handle.
For The Latest Latest Activities And News Follow our Social Media Handles
Facebook:- Gadgetnotebook
Twitter:- Gadgetnotebook
Instagram:- Gadgetnotebook