The Asus Strix Scar 15 is a new gaming laptop that comes with the new AMD gen 3 mobile processor the Ryzen 9 5900HX with the latest Nvidia mobile GPU The GeForce RTX 3080 and it has a brand new 165Hz Quad HD IPS panel. The Strix Scar 15 is not a new name but this is the proper next-generation gaming laptop. Before spending around $2700 on this machine lat's see what you should realistically expect from this thing.
Asus Strix Scar 15 Review
Display
15-inch QHD IPS Panel (2560x1440p) 165Hz Display
Processor
AMD Ryzen 9 5900HX
GPU
Nvidia GeForce RTX 3080
Storage
1TB NvMe SSD
RAM
16GB DDR4
Ports
1x 3.5mm Combo Audio Jack
1x HDMI 2.0b
3x USB 3.2 Gen 1 Type-A
1x USB 3.2 Gen 2 Type-C support DisplayPort / power delivery
Weight
2.30KG
Pros
Impressive Display With 165Hz
Keyborad & Touchpad
Great Battery Life
Impressive Sound Quality of Speakers
Cons
No Webcam
Keystone easy to lose
Bloatware
Display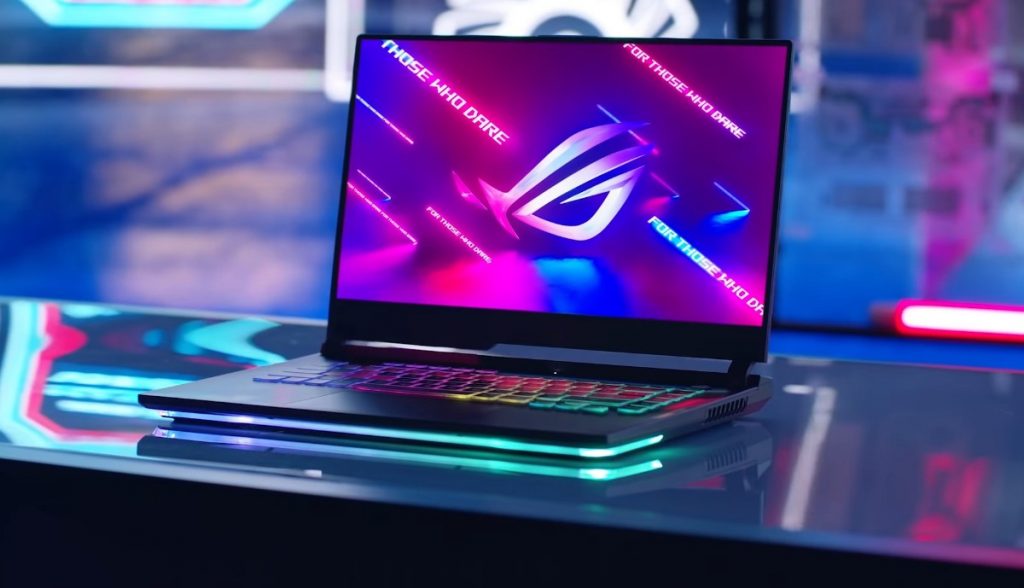 The Asus Strix Scar 15 comes with a decent 15-inch QHD IPS Panel it supports a 165Hz display clock at 327 nits peak brightness, Over 100% SRGB, 93% Adobe RGB, and 90% p3 color gamut. This Display is noticeably brighter and more vibrant than your average gaming laptop display. But at a 740 to 1 contrast ratio, it's just not as punchy as some now this is a fantastic overall display with probably the best machine to buy. The really fast response rate is great for esports but not quite as good as say a 300Hz or 300+ Hz display. It's perfect for casual gaming because of the high color gamut and it's awesome for the content creators as well because of the high resolution and high color gamut combination.
Performance
Now when it comes to performance The Asus Strix Scar 15 comes with the new-gen 3 CPU so this model comes with an 8 core Ryzen 9 5900HX. It runs at around 35watts typically but it can be pushed up to 80watts. The performance is really impressive in Cinebench 15 and 20 it easily beats intel's ultimate i9 10980hk which uses a lot more power and it even pulls ahead of the desktop Core i9 9900k from the MSI gt76 titan and in a single-core test is basically just you know humiliates both. Now, all that raw power doesn't always translate to performance in every test because if we look at Blender for example it only does a little bit better than the last-gen AMD CPUs and intel's 8 cores are still very competitive as well.
Now Let's talk about the AMD Ryzen 9 5900HX which actually a powerful processor which is a real powerhouse. It gives you a next-level performance while playing games. If we talk about the gaming performances it's a great experience. It has also packed with NVIDIA GeForce RTX 3080 GPU With up to 32GB of DDR4 RAM support.
Build and Design of Asus Strix Scar 15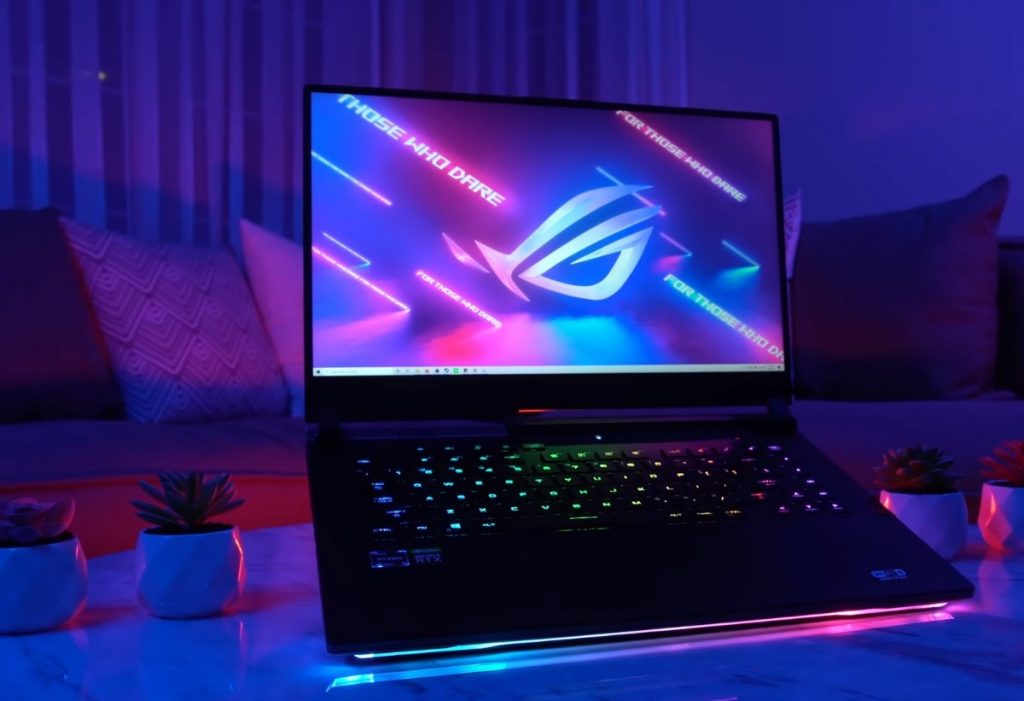 The Asus Strix Scar 15 is made of sturdy, durable plastic dressed in that same ROG aesthetic as its predecessor and that immersive RGB lighting on the keyboard and fringing three sides of its bottom rim. The keyboard RGB lighting for each individual key is fully customizable with the Armory Crate app, that is if you have the time to do so.
The top cover does have a nice layer of aluminum which looks and feels very nice but do keep in mind that most of the chassis is still made of plastic. The quality is quite good but doesn't expect a MacBook or a Razer blade metal tank kind of experience.
Keyboard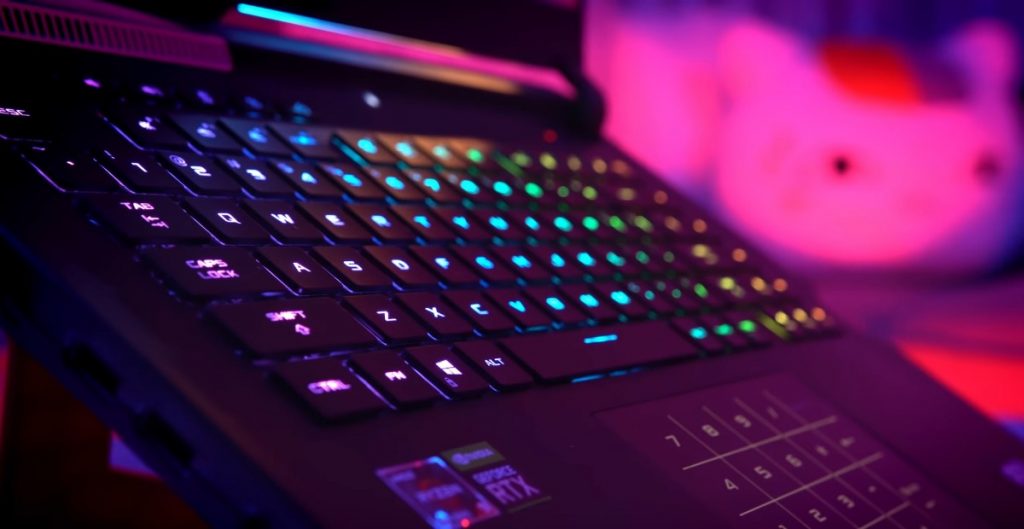 Now Talk about the keyboard of the Asus Strix Scar 15 has a Chiclet keyboard that looks good and also the keys are easy to use day to day tasks and gaming also. The Asus Strix Scar 15 has a smooth trackpad with a touch-sensitive numberpad but if you are a gamer you should use the extra mouse for high experience for smooth gaming and easy to use. The Asus uses a backlit keyboard that uses a different type of color light.
I used the keyboard the last few days and I haven't found any issues in day-to-day tasks. The performance is impressive while using the keyboard.
Also Read:- Asus ROG Strix G15 Review
Keystone
The Asus Strix Scar 15 comes with the Keystone. The keystone allows you to use the shadow drive which is an encrypted drive on your machines now pairing your keystone with your Asus account enables your shadow drive. This hidden encrypted drive will only be visible on your laptop when you insert the keystone or enter the password. You can also trigger certain actions when inserting or removing the keystone like activating a fan profile upon inserting the keystone or locking your windows account when the keystone is removed.
Webcam
If you a laptop with the web so that is not for you. The Asus Strix Scar 15 did not have a webcam. if want to my opinion so that is a downside of the laptop. We are in 2021 where almost all of them are doing their work from and all the meetings and conferences are on video calling but if you did not have any issue with that you can go for the Asus Strix Scar 15. Also if you are a gamer and you are preparing for live streams so we suggest you buy a good webcam for your streaming. A good camera gives you a high-quality videos recording and you can make high-quality content for your audience.
I/O and Ports or Connections
In the terms of connections, it is pretty much the same as well as before. you will get two 5 gigabit USP ports on the left as well as a headphone jack there is nothing on the right side and on the back, there is the power connection, gigabit ethernet port, HDMI port, USB 3.2 gen 2 type C port, and another 5 gigabit USB type-A port which seems a good amount overall.
Verdict
The Asus Strix Scar 15 is a fantastic laptop with impressive performance. Many laptops put in shame when it's come to battery life, but that's not the case with this laptop. This laptop had a great battery life that keeps up throughout the day, and that's what we all look at on a laptop, and it doesn't disappoint you there. The laptop is powerful enough to handle all of your work needs with ease. The laptop is an excellent choice for working professionals, and for students also who are looking for a laptop that lasts throughout the day. I have no issues recommending this laptop to people who need it for handling their productive tasks.
For The Latest Latest Activities And News Follow our Social Media Handles
Facebook:- Gadgetnotebook
Twitter:- Gadgetnotebook
Instagram:- Gadgetnotebook