Producing music from Laptop can seem fun but at the same time indeed faces some technical issues. Likewise, the creative criteria for developing next-level music best tools are also required. This article discusses the 9 Best laptops for music production which have steady battery life, amazing graphics, display, and processor. Stay updated.
Features Needed for Music Production on a Laptop.
For composing some incredible music pieces, you must have a checklist for choosing a solid Laptop. Here's, what according to us can be defined as the best laptop features-
● Processor
The processor of your laptop is a crucial determinant so, some of the advanced processors like AMD Ryzen and Intel Core I-series should not be missed out.
● Battery Life
Creating a music piece is a time-consuming task and for that, any device would need healthy battery life. At a minimum, a good laptop should have at least six long hours of battery life.
● Maximum storage space
Professionally producing music files would demand a large amount of storage space. Unlike any normal working laptop which comes with 250 GB storage capacity, perhaps you would need extra. So, choose a piece that allows at least 500 GB of storage capacity. We would recommend avoiding a hard disk and selecting a laptop with a Solid State Drive (SSD).
● Other features
A good display, so that while using music production software, everything can be fitted to the screen size. At the same time, you can't compromise the resolution quality and precision adjustments, so use compressors and EQs. Similarly, the graphics must also be well shaped via the Graphics Processor Unit (GPU).
9 best laptops for music production
Below are some of the professional-level laptops with which any starter to professional-level enthusiast can improvise their music-making skills.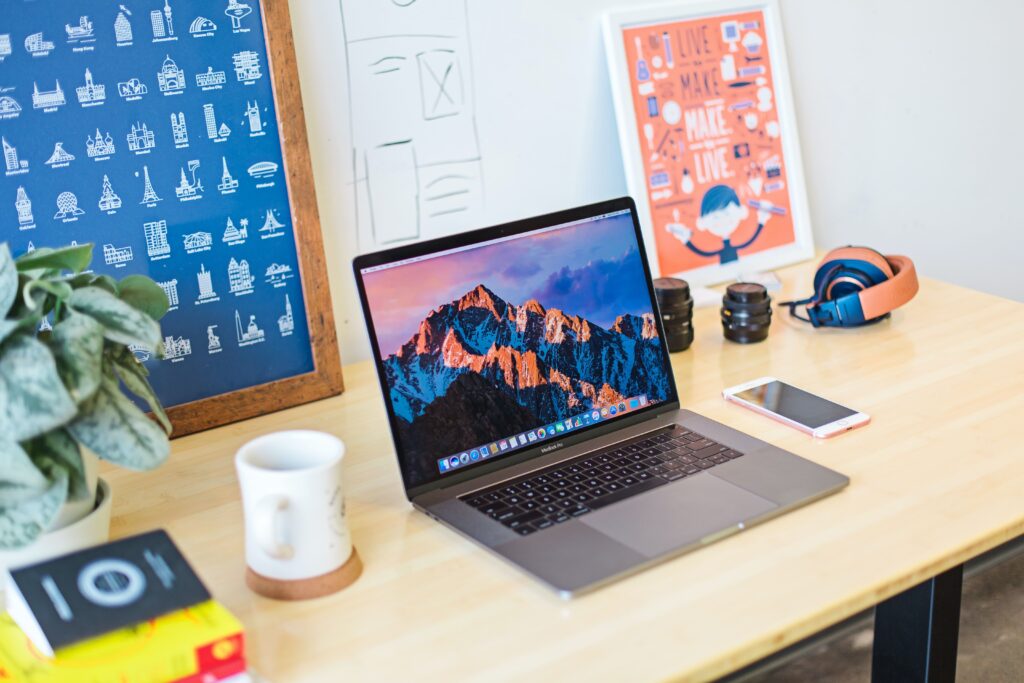 An Apple Macbook fan would know about their dedicated retinal display. The Apple MacBook Pro laptop (2022) starts at $1,224 for 256 GB and $1,449 for 512 GB. The latest Mac M1 pro has a 14-inch model and comes with  256 GB to as high as 8TB storage capacity. Some of the other insane features like –
Up to 64 GB RAM and at max 8 TB.
The battery life of the M1 pro delivers about 17-21 uninterrupted services.
The screen dimension includes 16 inches, 14 inches, and 13 inches.
Touch bar and backlog keyboard.
The laptop model is comparatively lightweight, even less than >2.5 kilograms.
| | |
| --- | --- |
| Pros | Cons |
| Comes with both SD and HDMI. | Users may find the camera notch extra prominent. |
| The display feature is excellent which comes with an IPS-based Liquid Retina XDR display. | Faces problems like the absence of proper facial recognition. |
| Lasting battery life. | Apple models lag because of the absence of storage or memory expansion. |
| Backed with MagSafe 3 lightning. | Does not come with a fast charging plug for entry-level models. |
| | Costly as compared to other laptop devices from Dell and Samsung. |
2. Dell XPS 17 ( Best music production with a large screen )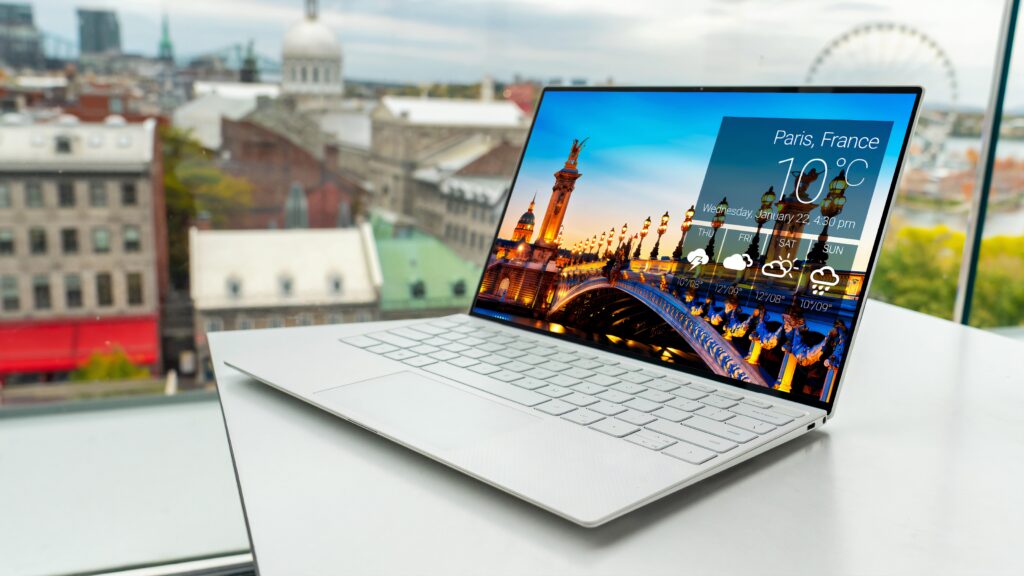 For high-quality music production, the need for a big laptop screen can never be underestimated. The 2021 Dell XPS 17 qualifies with a large 17″ screen with lightweight features. The Intel Core i9 processor with Nvidia RTX 3060 GPU makes it capable of composing high-quality music pieces. In approx. the Dell XPS 17 prices in between $1,750- $1,950. Have a look at some prime features-
Power-wise updated with 12 gen Intel core i9-12900 HK (14 cores, 24 MB cache, 2 0threads, up to 5.00 GHz Turbo)
Operating system: Windows 11 Pro, Windows 11 Home.
Exterior color choice: Silver exterior, Black interior, or Platinum
Consists of a 512 GB hard drive, M.2, SSD
USB Type-C along with Power Delivery and Display port.
Minimum weight of 2.21 kilograms for non-touch using 97 Whr battery.
| | |
| --- | --- |
| Pros | Cons |
| High display quality using HDR | Battery life should have been better |
| Excellent laptop design with precise finishing. | Missing ports |
| Great performance, ideal for gaming and music production | Difficulty in carrying due to its larger size. |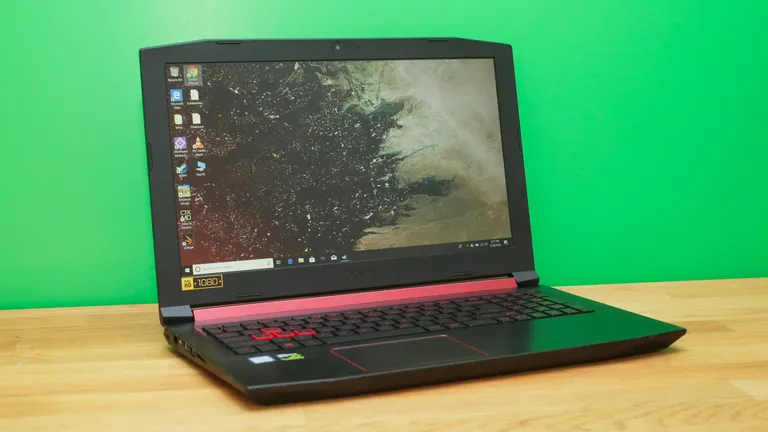 The Extraordinary design with unique features allows the user to carry the laptop everywhere. Power-wise, the laptop consists of a 9th Gen Intel Core i5 processor with 8 GB DDR4 RAM. Acer Nitro 5 market price starts from $769 alongside a 15.6″ reasonable screen size. It has an inbuilt Alexa assisting you in regular activities like creating a to-do list, auto tuning music, changing display pictures, setting reminders, etc. There are two fans fitted for cooling the CPU unit. Specific features-
Qualified GPU with NVIDIA GeForce GTX 1650 graphics.
Comes with approx 256 SSD.
It comes with a 9th Gen Intel Core i5 processor with 8 GB DDR4 RAM.
Uses an HD webcam camera.
Consists of an inbuilt HDMI 2.0 port, one USB 2.0 port, and 2 USB 3.1 gen ports.
The battery lasts for 8 hrs with min 2.3 kgs.
| | |
| --- | --- |
| Pros | Cons |
| Great sound experience using Acer TrueHarmony / Waves MaxxAudio. | The storage space is not good for high-intensive functioning like gaming and storing extra music files. |
| Highly optimized with Acer cool boost tech. | Battery life sustains lesser as compared to Mac pro laptop units. |
| In times of low-light situations, the backlit keyboard becomes useful. | The screen blacks out frequently for some users. |
| Good connectivity features with 1*HDMI 2.0, 2*USB 3.1 Gen, and 1*2.0 USB ports. | Many received damaged or defective laptop units while ordering via Amazon. |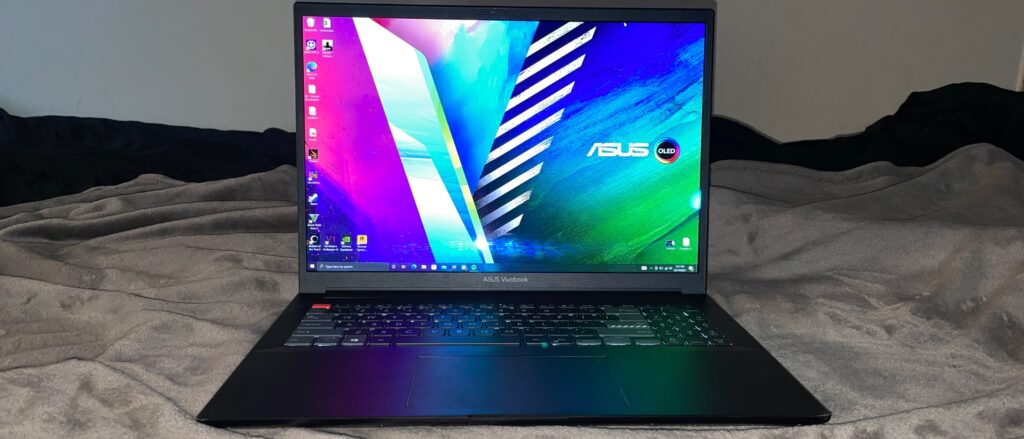 When you hunt for a laptop for the overall good, Asus VivoBook Pro should be on your list. The resolution quality is superb with a 4K OLED display. The price of the laptop begins at $1,599. Key specifications-
The CPU processing power is speedier with Ryzen 9 590HX CPU and has the potential for basic music production.
RAM 32 GB with 1TB PCIe NVMe M.2 SSD storage.
| | |
| --- | --- |
| Pros | Cons |
| Superb display with 4K OLED quality. | The exterior design should have been more stylish. |
| Durable battery life | Not an impressive webcam camera. |
| Helpful dial-pad tools. | Improvement needed on the fingerprint reader |
Most musicians look for a powerful battery life-supporting laptop. But while using Samsung Galaxy Book2 Pro 360, you will get lasting battery life and a bonus of 2 in 1 design. The price starts from $1549.99 from different Samsung outlets and on Amazon. The CPU supports the 12th gen Intel Core i7-1260P processor. Other features-
Comes with a memory capacity of 1TB SSD storage with 16GB RAM.
Versatile usage and capable of using multiple devices.
The battery lasts for 14 hours straight.
And the laptop has a 15.6″ OLED display screen.
| | |
| --- | --- |
| Pros | Cons |
| Amazing battery life with more than 10 hours of working. | The keyboard and webcam should have worked better. |
| High distinguished OLD screen. | Re-authentication is required with a fingerprint reader. |
| Intensive performance with 12-gen core processor. | Installs lots of extra apps. |
| Storage capacity is also impressive with a 1 TB SSD. | |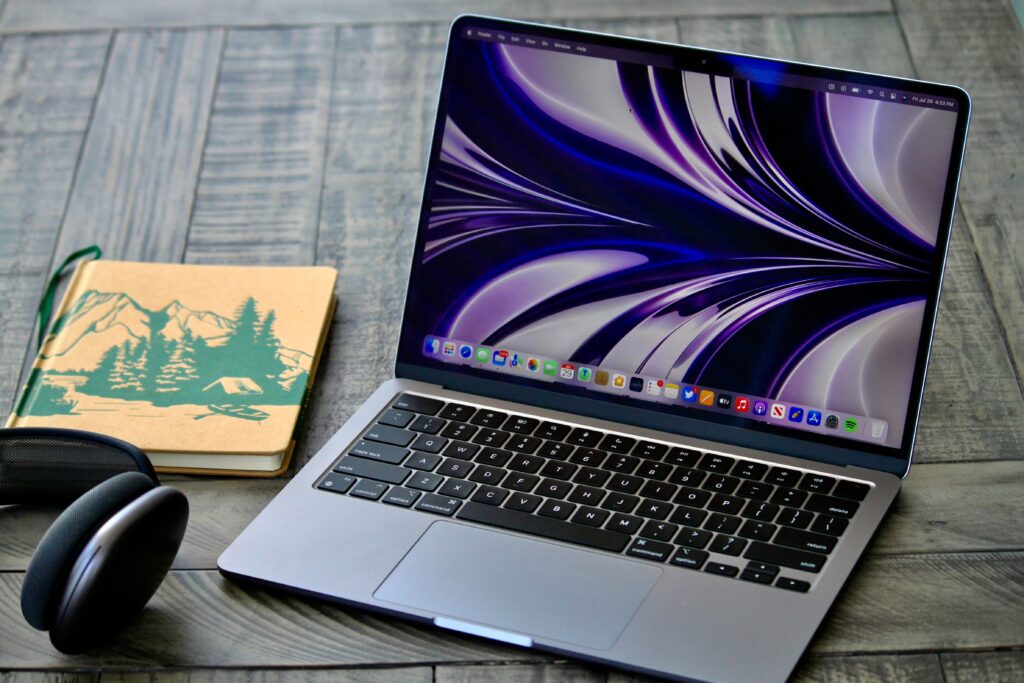 When you want to maintain the brand without thinking about exceeding your budget, then Apple MacBook Air should come into your mind. It is significantly less pricey than the Macbook pro 14 but marks excellent performance with an M1 chip. Since the model is fanless, it would not create unwanted sound while recording. Key features include-
RAM 8-16 GB and SSD storage 256GB to 1TB.
The screen size is 13.3″ with a display resolution of 2560*1600 pixels.
Comes with integrated 7-8 core GPU.
The outer body is of Space Grey, Silver, and Gold choices within the price range of $978-$985.
| | |
| --- | --- |
| Pros | Cons |
| Long-lasting battery life | Comparatively smaller screen size. |
| Mac OS Big Sur works responsively. | Uncertain performance because of the fanless design. |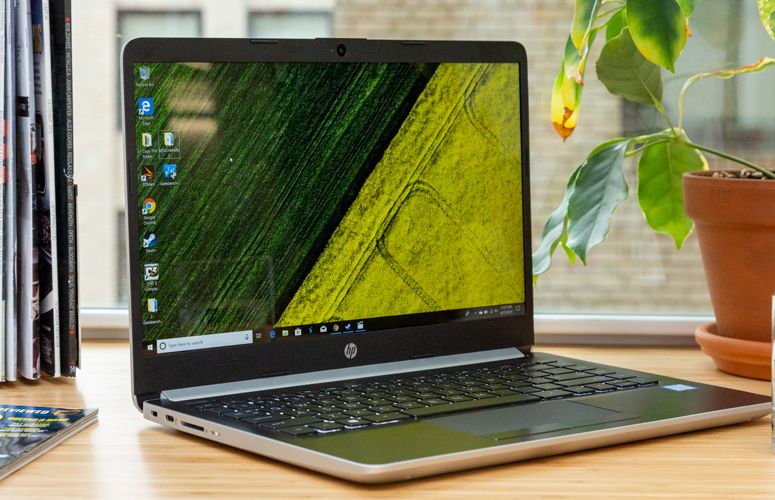 While ordering the right laptop, a brand name like HP definitely counts.  Though the display screen size is 14inches, it does give a wider screen view with attractive exterior looks. The display has a bright view feature, which is super cool while watching movies, or your edited music videos. The laptop operates with Windows 10 Home operating system and can be updated to windows 10 pro. The rough price range of the HP model is $248-$260 depending on your location. Some features-
Uses AMD 3030e dual-core mobile processor with Radeon Graphics.
RAM up to 16 GB and SSD storage of  512 GB.
Comes with a 1*HDMI port, 2*type A USB ports, and 1*Type C USB port.
Display resolution 1366*768 pixels.
The battery lasts for 10.5 hours.
| | |
| --- | --- |
| Pros | Cons |
| Good battery life with undisturbed services for a nice 10 hours. | The screen display should have been better. |
| Suitable for multi-tasking with every required accessory. | Needs to work on the sound quality. |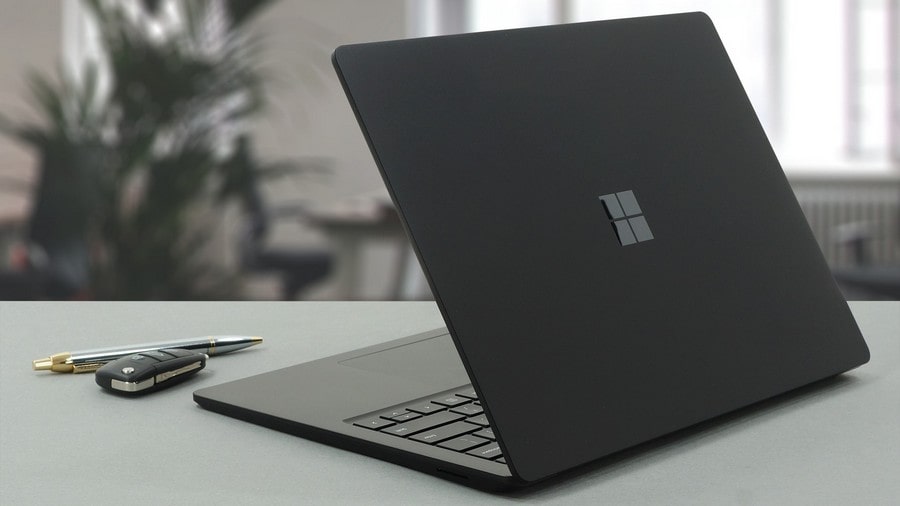 The laptop model comes in two sizes, that is 13.5 and 15 inches with matte black, platinum, sandstone, and ice blue outer finishing. The laptop is perfect for multitasking with a split screening feature. Uses the operating system Windows 11 for free and can be updated. Pricing starts from $799 only. Other specifications-
Applicable with AMD Ryzen 5 4680U, Intel Core i7 11 Generation processor.
Can be connected via Bluetooth 5.0 and Wi-Fi 6 802.11ax with Intel Iris Xe graphics.
 16 GB RAM with 512 GB SSD storage.
Is lightweight at 1.26 Kilograms.
| | |
| --- | --- |
| Pros | Cons |
| Perfect display with 2,256*1504 resolution. | They should have developed enough ports for connectivity. |
| Lightweight. |   |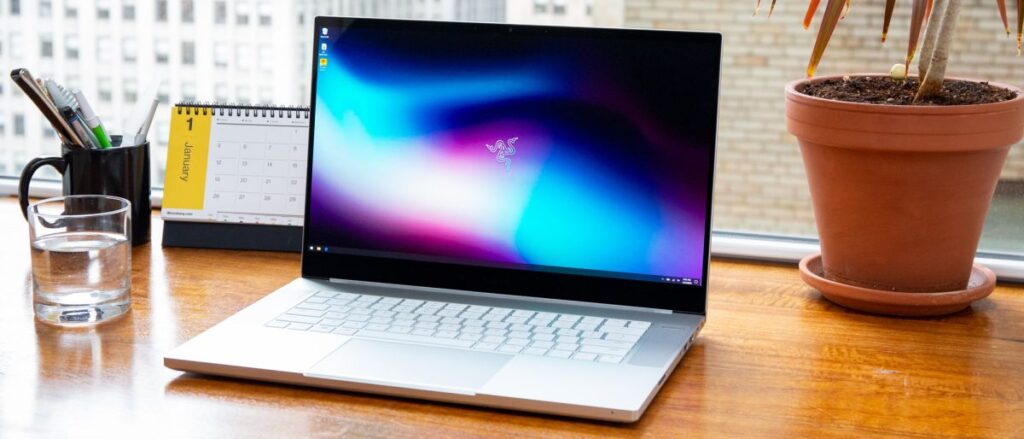 Though Razer Blade laptops are meant for heavy gaming. However,  other intense tasks like creating music can also be effortlessly carried out with this laptop model. Along with decent visual senses and customized RGB keyboard backlighting, the Razer Blade 15 edition can turn into a studio maestro. Pricing starts from $4,299. Key features-
Uses RAM 32 GB with 1 TB SSD storage.
The screen size is 15.6 inches with 4k OLED touches.
CPU processor is of 8th Gen intel core i7 and
 NVIDIA GeForce GTX 1060 GPU.
| | |
| --- | --- |
| Pros | Cons |
| A powerful gaming laptop capable of heavy or multitasking. | The non-gamers may find its features difficult to operate. |
| High-end apple tier designing. | Pricey as compared to other brands. |
Grab the best deal!
All of the above-mentioned 9 laptops for music production are best with their unique features. It's difficult to rank any of them above others as that at the end of the day depends on the buyer's demands and purposes. So, choose your favorite based on your requirement and total budget.