But this doesn't mean you have to spend a lot of money just to purchase an amazing laptop computer right now. The tablet world is one mainly driven market on which new devices are made available every few weeks. The $200 tablet is equipped for daily tasks along with moderate gaming. It has been recommended by the world's customers Samsung tablets Lenovo Tablets & Asus tablets. To purchase high-end tablets, we recommend you look at our following guides: For those on an extremely tight budget, check our list of best tablets under $100.
5 best tablets under $200
Lenovo Tab M10 Plus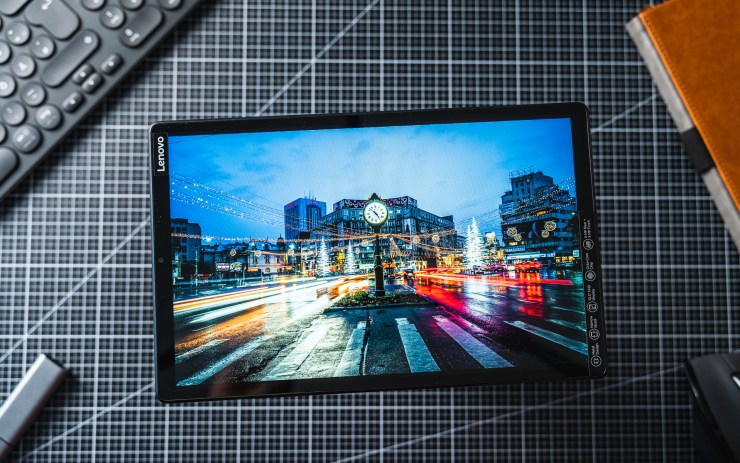 The Lenovo Tab M10 Plus is a great tablet for multitasking. The M10 Plus comes with a 10.3-inch display which is comparably larger than most of the competitors and FHD resolution makes the browsing and split-screen viewing experience much better. The Lenovo Tab M10 Plus is powered by a MediaTek Helio P22T Octa-Core processor that makes this device faster and smoother. Apart from that the M10 plus comes with 4GB of RAM and 64GB of Storage.
The best thing about this device is its build quality it is designed with a full metal body that gives it a high-end feel to the touch which is quite surprising at this price point. Overall the Lenovo Tab M10 Plus is an outstanding tablet with a larger screen, powerful processor, and a premium design.
| | |
| --- | --- |
| Display | 10.3-inch FHD Display |
| Processor | MediaTek Helio P22T Octa-Core Processor |
| RAM | 4GB of RAM |
| Storage | 64GB of ROM which is Expendable |
| Battery | 5000mAh |
Pros
Kids mode has lots of features
Good price
Premium build quality
Comes with a charging dock
Cons
Weak speakers.
Bad cameras.
Amazon Fire HD 10 (Best Tablet for Daily users)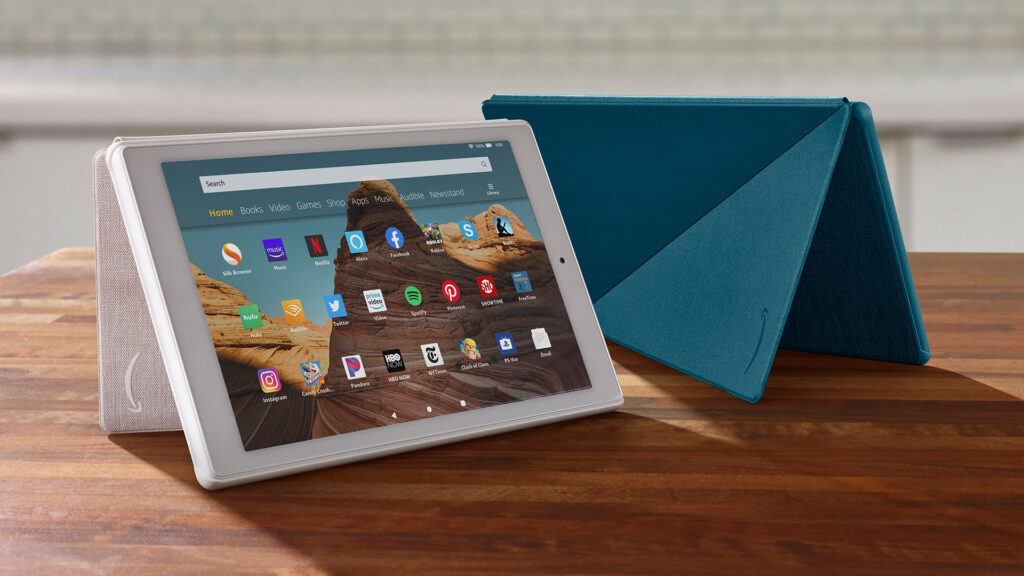 The Fire HD 10 is an outstanding upgrade to the 2017 version of Fire HD 10. That delivers an intensive performance. It has an a10.1-inch 1080p display, this tablet was designed for content consumption as it has notably higher brightness and color quality. The Amazone fire is packed with an Octa-Core 2GHz chipset for better performance. The Tablet comes with 2GB of RAM and 64GB of storage which you can expandable up to 512GB. The Amazone Fire HD 10 also has a dedicated GPU Mali G72 which has enough power to run modern android and emulator games.
The Fire HD 10 has potential for extensive usage as well, it has a 4700mAh battery that amazon claims to have a backup of up to 12 hours. Amazon has done a splendid job in this version of the Fire HD 10 tablet by giving it more processing power, a bigger display, and a powerful GPU which suits most tablet users.
| | |
| --- | --- |
| Display | 10.1-Inch FHD display |
| Processor | 2GHz Octa-Core processor |
| RAM | 2GB of RAM |
| Storage | 64GB of Storage |
| Battery | 4700mAh Battery |
Pros
Great screen for the price
Impressive budget performance
Fire OS 7 brings many improvements
USB-C
Long battery life
Cons
Missing Android staples thanks to Fire OS
Best for Amazon customers
Mediocre cameras
Dragon Touch K10 Tablet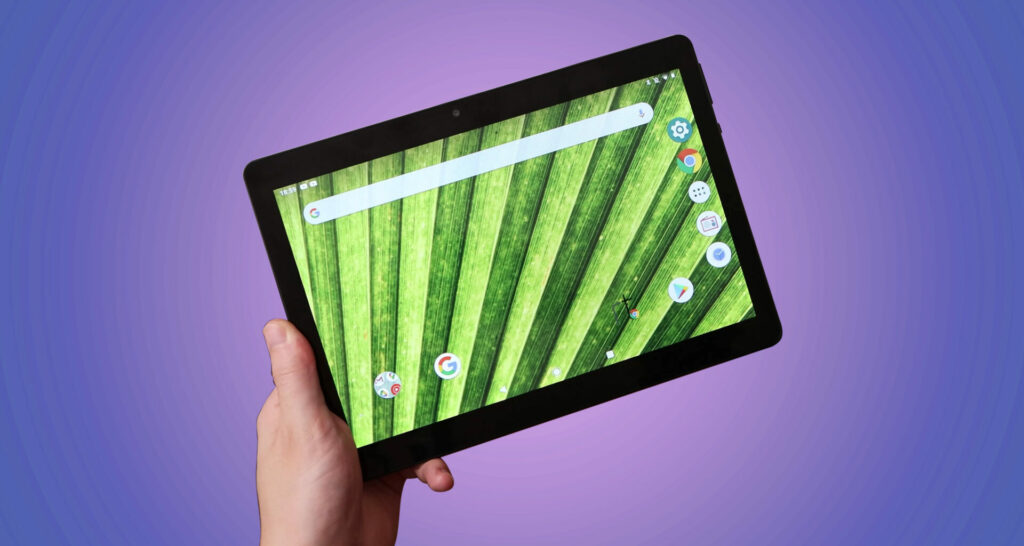 The Dragon Touch K10 is an entry-level tablet that has stunning display quality. The sleek tablet has an IPS HD display with a resolution of 1280×800 that can showcase the vivid color quality and detailed imagery from any angle which you will find amazing. It's powered by a 1.3GHz quad-core processor and 2GB of RAM. This tablet can deliver a great deal of performance for regular usage, Moreover, the 32GB of storage will be sufficient enough for you to stock up games, movies, and ebooks while having plenty of additional space for more.
It supports dual-band WiFi channels including 5G support for faster and efficient network connectivity to streamline Netflix and youtube. For connectivity, it has a micro HDMI port that you can connect to your TV to effectively project on-screen content to show to your family and friends.
This device is rocking vanilla android 9.0 that delivers a pure Android experience on games, apps and user interface. Overall the Dragon Touch K10 is a decent tablet with a stunning display and design.
| | |
| --- | --- |
| Display | 10-inch HD IPS Display |
| OS | Android 9.0 |
| RAM | 2GB of RAM |
| Storage | 32GB of Storage |
| Processor | 1.3GHz Quad-Core processor |
Pros
Lightweight.
Battery life is acceptable.
The processor is normal.
Cheaper.
Good Speaker.
Cons
Still poor performance.
No fingerprint sensor.
Not for gaming.
Low RAM.
Vankyo Matrixpad S30 ( Best Tablet For Entertainment )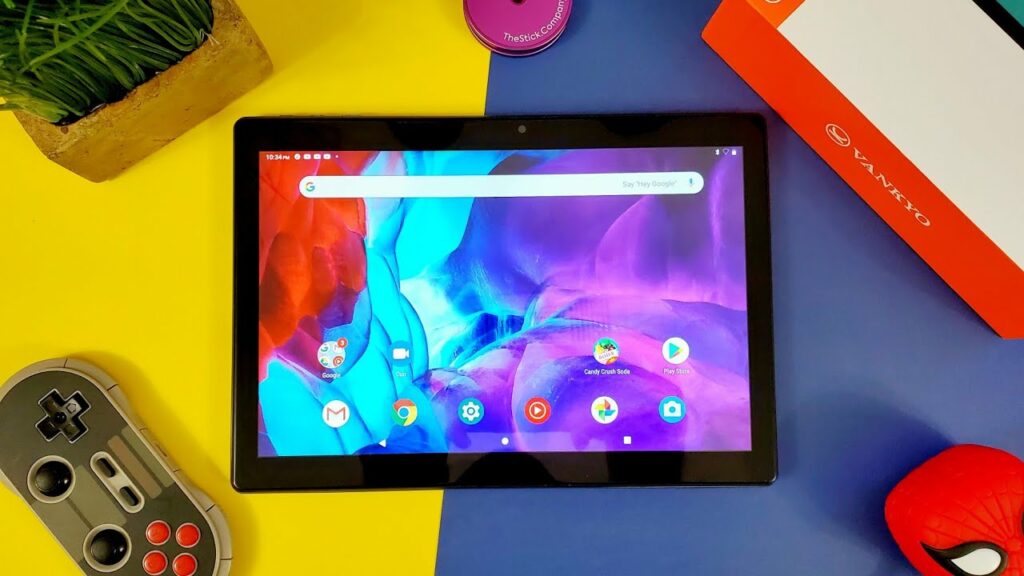 The Vankyo Matrix Pad S30 is a reliable android tablet the delivers decent entertainment performance. It has a 10.1-inch Full HD IPS display. The Matrix pad S30 is powered by a 1.6 Gigahertz Octa-Core processor along with 3GB of RAM that ensures smooth swiping and fast performance while the 32GB of Storage will hold all of your entertainment necessities for you to enjoy.
The Matrix Pad S30 is equipped with a 6000mAh battery that will support you for up to 16 hours of usage. The best thing about the matrix pad S30 is it supports a 5G WiFi network that will make gaming and streaming faster and more enjoyable experience for you.
If you are considering buying a tablet to make your ledger time entertaining the Vankyo Matrix Pad S30 will not disappoint you.
| | |
| --- | --- |
| Display | 10.1-inch FHD IPS Panel |
| Processor | 16GHz Octa-Core Processor |
| OS | Android |
| RAM | 3GB Of RAM |
| Storage | 32GB Of Storage |
| Battery | 6000mAh |
Pros
Great battery life
Easy to interface
Storage
Lightweight
Cons
Not for gaming
Average camera
Simbans TangoTab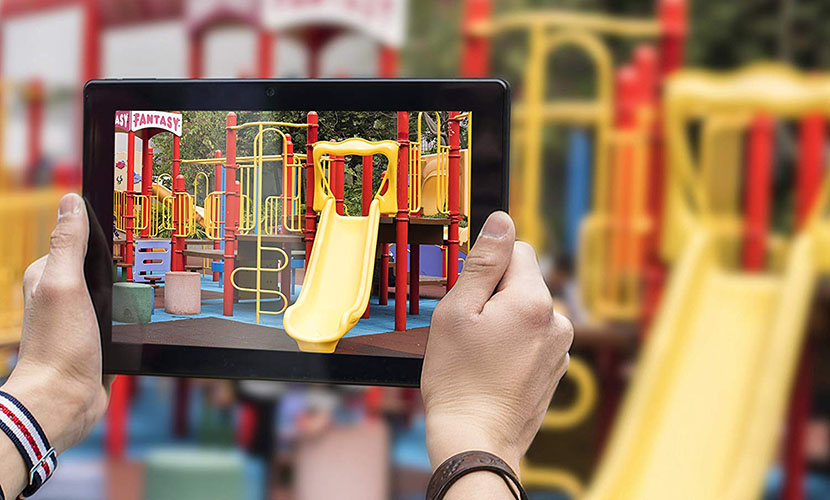 The Simbans TangoTab is a 2-in1 tablet that can be used as an android laptop as well. It features a 10-inch IPS HD panel that displays on-screen content with greater brightness and vibrant color quality. The Simbans TangoTab comes with a quad-core MediaTek processor, 4GB of RAM, and 64GB of Storage to make your browsing experience smooth while also enhancing your productivity while using it as a laptop. When using a tablet for productive purposes you will require reliable battery backup to keep you at ease this tablet is packing a 6000mAh Battery. Which will be by your side to the full workday. It weighs about 500 grams for you to seamlessly carry it wherever you go and use it as a portable entertainment machine.
Furthermore, it comes with a mini HDMI Port for connecting it to a projector or monitor to showcase important business presentations to colleagues. We recommend the Simbans Tango Tab to individuals. Who are always on the move and also in need of a laptop to use as a remote workstation.
| | |
| --- | --- |
| Display | 10-inch ISP HD Panel |
| OS | Android 10 |
| Processor | Quad-Core MediaTek |
| RAM | 4GB of RAM |
| Storage | 64GB of ROM |
| Battery | 6000mAh |
| Weigh | 1.1 pounds |
Pros
Durable and sleek faux leather case
Pre-installed screen protector
Safety and quality
Effective connectivity options
Cons
The plastic build is not very durable
Distorted sound from speakers at maximum volume
Verdict
So that was all about the Top 5 best tablets under $200. I hope you selected one of them as per your needs all the tablets are in this they all are the best in their place. You can select one of them as per your needs and requirements. I hope you love the article and if you have any questions or suggestions so you can mention comments or DM us on our social media.
For The Latest Latest Activities And News Follow our Social Media Handles
Facebook:- Gadgetnotebook
Twitter:- Gadgetnotebook
Instagram:- Gadgetnotebook