If you are a gaming enthusiast, you must have heard of Roblox. Roblox is free to play for everyone. It's pretty popular with everyone nowadays. If you are a Roblox player facing an issue related to error Code 267 on Roblox. So don't today we are here to show you how to Fix it, in Few Steps.
For you, we have crafted an easy step-by-step so you can easily know how to Fix Roblox Error code 267. Roblox is available on all operating systems such as Microsoft Windows, Xbox One, Android, iOS, macOS, and many more. The Roblox error code 267 is a pervasive error that regular Roblox users may have encountered multiple times.
What is Roblox Error Code 267
If you get the Roblox error code 267 it means your Roblox account receives a temporary ban due to suspicious activity or trying to play unfairly. There are other reasons also like your internet connection is not working correctly and your internet connection might have got interrupted during loading or gameplay. Basically, your PC, Laptop, or Chromebook could not connect to the Roblox Servers.
1. Set Google Chrome As the Default Browser
Most ROBLOX users make the common mistake of opening Roblox with an Old or Outdated Browser. This can cause you and create a bad error when starting Roblox. The Easiest way to fix it is to Update your web browser.
Google Chrome is the most trusted and most popular Browser. To update google chrome is pretty easy.
Open Google Chrome and click on 3 dot's top right corner.
Now Click on Help Section.
After that select About Google.
Now it will automatically check for updates and install the latest version.
2. Reset Internet Browser Settings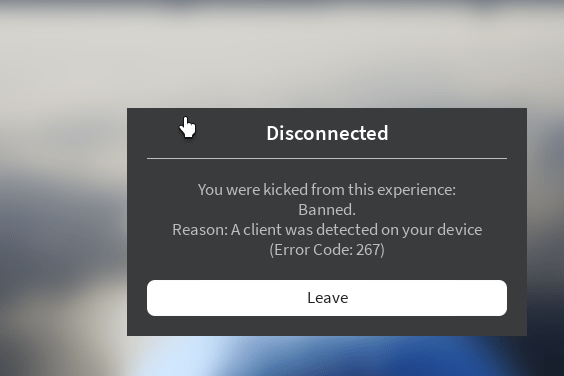 Resetting Internet Browser settings is the best way to fix Roblox error code 267. Resetting your web browser is very easy just follow the step mentioned below and you can reset all your web browser settings.
Open your Web browser (Google Chrome as we suggested).
Now, Click on the 3 dots', In the top right Corner.
After that Select the setting option and click on it.
Now Click on the Reset and Clean up option.
Press Restore settings to their original default. After that click on Reset settings.
Close the browser and relaunch Roblox.
3. Check Your Internet Connection
I hope you have noticed the 267-error message carefully. Display the message that says Disconnected: you were kicked out of this Roblox Error Code 267.
Also Read:- How To Play Roblox On Chromebook.
When you are getting the Roblox Error Code 267. Display the message It shows you are you were kicked from the game with error code 267. So you have to check whether your internet connection is stable or not. If the Internet connection is not stable then you have to fix the internet connection. Fixing the internet connection can solve Roblox error 267 and Roblox error code 260.
4. Disable Ad Blockers
If you are using an Ad Blocker to avoid any annoying ads on your web browser. So make sure you disable your Ad Blocker. It is the easiest way to fix the Roblox Error Code 267.
5. Bypass Roblox error code 267
If any of the above step's methods won't work for you, so try to skip the Roblox error code 267. The developer of the team generally fixes the errors and bugs in its next updates. It may take time, but it is a more effective method to fix the error code 267.
If you don't want to wait to fix the Roblox error code 267, Then you need to download and install the latest updated version of Roblox, to fix it. To uninstall the Roblox follow the steps given below.
Open Control and click on Programs.
After that click on Programs and Features.
Now Select the Roblox player and uninstall.
Now Reinstall the game and try to start with a better quality VPN (We suggested you can use Surfshark VPN) to avoid errors. So, you won't get the Roblox Error code 267 again. If you still get the error code 267, create a new account with a new email address.
Verdict
I hope you have the fix the Roblox error code 267. by following the steps mentions above in the article. If the error code gets fixed by this method so also informed us if you still facing an issue fixing the error then also mentioned us on our Social media handle so we can help you.