Acer's helios 300 was one of the best gaming laptops available last year, and although improvements have been made with the newer 10th gen model I'm reviewing it in this laptop. They've also taken some steps backward and made it worse in some areas, let's discuss.
Design And Build Quality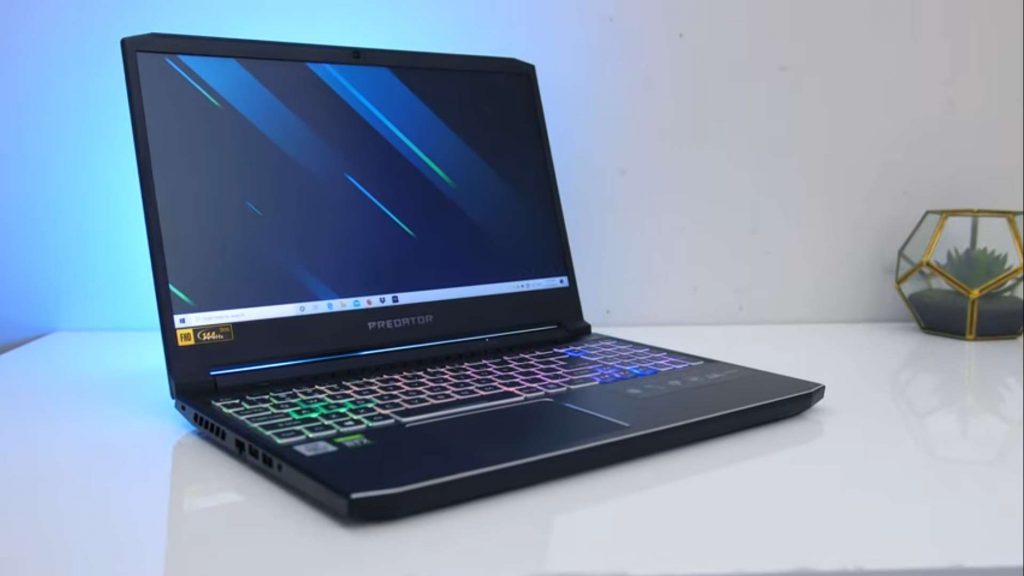 The overall design appears the same as last year, it's got a matte black aluminum finish with blue accenting. The Build quality was decent, like last year the front corners could feel a bit sharp on certain angles, but it wasn't noticeable during normal use. There's some keyboard flex when pushing down hard, but it felt sturdy during normal use. The lid also has some flex to it, but it's definitely a more rigid feeling than say the plastic Legion 5 or Omen 15. Weight distribution felt good, it sat fine on my lap, and this allows it to be opened easily with one finger. The Helios weighs 2.3 Kg. The size is similar to a lot of other 15″ gaming laptops out there, it's not super thin, but definitely far from being a thick boy.
Now let's back to design the back has air exhaust vents towards the corners, and the power input is near the middle a welcome change over last year's model which has it on the side partially blocking one of the air vents, this way the cable is kept out of the way. There's nothing going on over on the front.
The lid has the predator logo in the center which light up blue from the screen's backlight, so cannot be customized and there's no predator text on the lid like last year's model. Underneath has air ventilation holes above the fans towards the back, getting inside requires taking out 11 Phillips head screws of the same length.
Display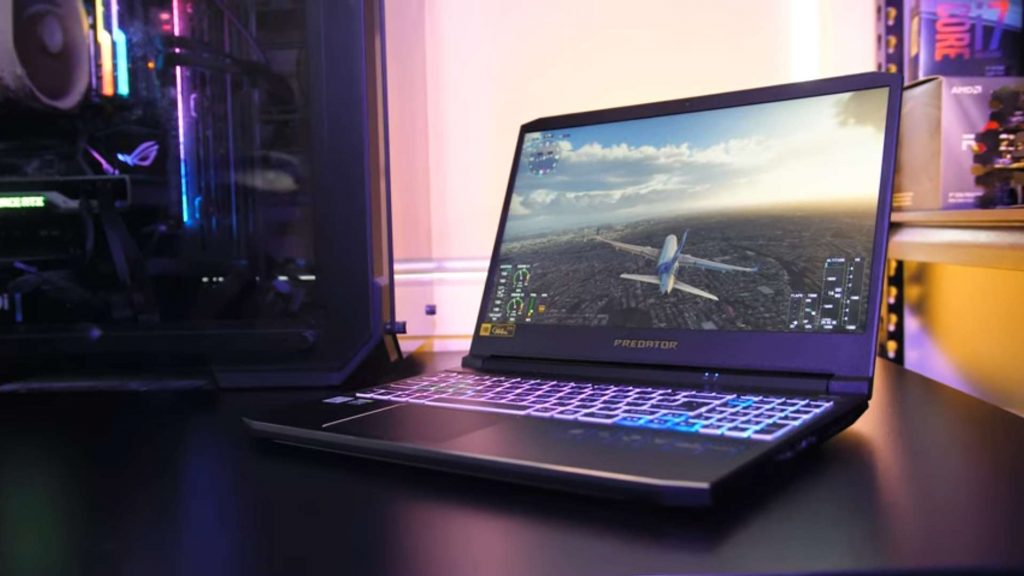 The Acer Helios 300 comes with a 15.6″ 1080p 144Hz display, no free-Sync or G-Sync though, and no option of disabling optimums. The predator Sense software lets us enable or disable overdrive mode which affects screen response time. With overdrive off, we're getting pretty typical results from a 144Hz panel, just under an 8ms average grey-to-grey response time, with overdrive enabled, the response time drops to 4.66ms.
When we look at how it stacks up against others, well it's tied with the Legion 5 for fastest 144Hz laptop panel that I've tested so far, a great result. I've tested the screen with the spyder 5 and got 98% of sRGB, 69% of NTSC, 75% of AdobeRGB, and 75% of DCI-P3, a decent result from a gaming laptop.
Performance
The Helios 300 packed with the 10th Gen Intel Core i7-10750H CPU processor and coupled with 16GB LPDDR4 RAM. The laptop comes with 512GB NVMe PCIe SSD storage, which translates to impressive performance, and it doesn't let you down.
The Intel Core i7-10750H processor it's a great choice, you wouldn't find much difference while executing, your day to day tasks and workflows. In my long week usage of the Acer Helios 300, I didn't experience any freezes, lags, or any annoyance with this laptop. The laptop can easily handle multiple Chrome tabs coupled with a video editing session in Adobe Premiere Pro and doesn't let you down if you try to push it.
Now Let's talk about the 10th Gen Intel Core i7-10750H which actually a powerful processor which is a real powerhouse. The Intel Core i7 has a powerful processor that gives you next-level performance while playing games. If we talk about the gaming performances it's a great experience it has also packed with NVIDIA GeForce RTX 2070 MAX-Q GPU With up to 32GB of DDR4  3200MHz RAM support.
Keyboard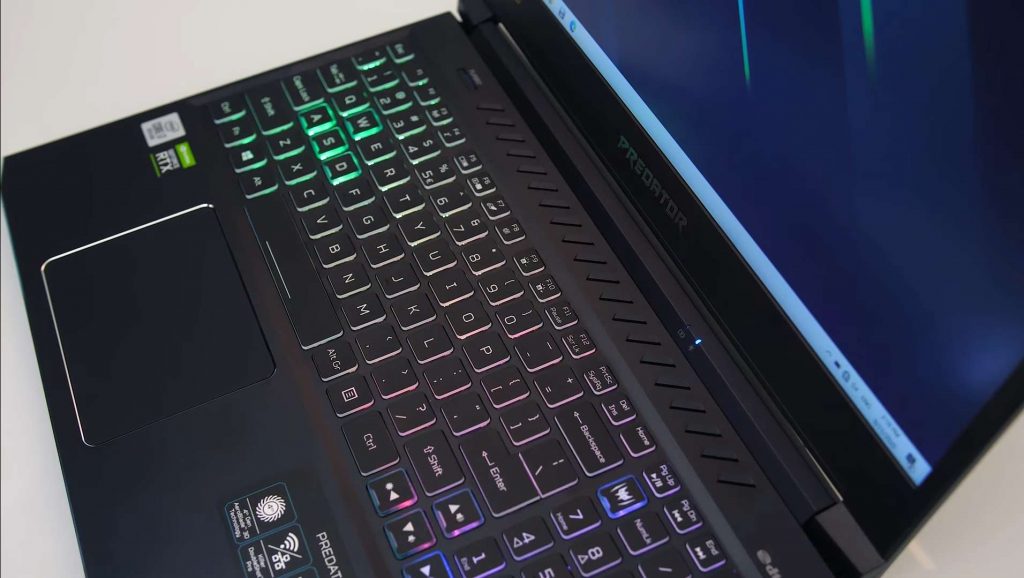 Now talk about the keyboard, the keyboard has four zones of RGB backlighting and all keys and secondary functions are illuminated. There are 4 levels of key brightness or you can turn it off with the F9 and F10 keyboard shortcut, or through software. Let me be clear, the keyboard alone is enough of a reason to not want to consider this laptop, it was very annoying to use. Basically what happens is when typing, some keypresses don't trigger unless you push hard. I noticed when playing games that I had to fully hold the keys down completely. The keypress ends even if you just slightly reduce the pressure on the key, even if it's still fully actuated, so when walking in a game unless I go out of my way to hold the keys down extra hard you just randomly stop moving. The keys themselves felt fine press, and typing otherwise felt the same as the older version, here's how typing sound to give you an idea of what to expect.
The power button is the part of the keyboard, but an accidental miss press doesn't put it sleep, you have to hold it down for a bit then the software gives you some options. There are some air vents above the keyboard as well as a turbo button towards the left, more on that soon. The precision touchpad is smooth, clicks down anywhere, and works fine, no problems there. Fingerprints and dirt show up on the black finish but as it's a smooth surface they're easy to clean with a microfiber cloth.
Also Read:- Asus ROG Zephyrus S GX701 Review
Battery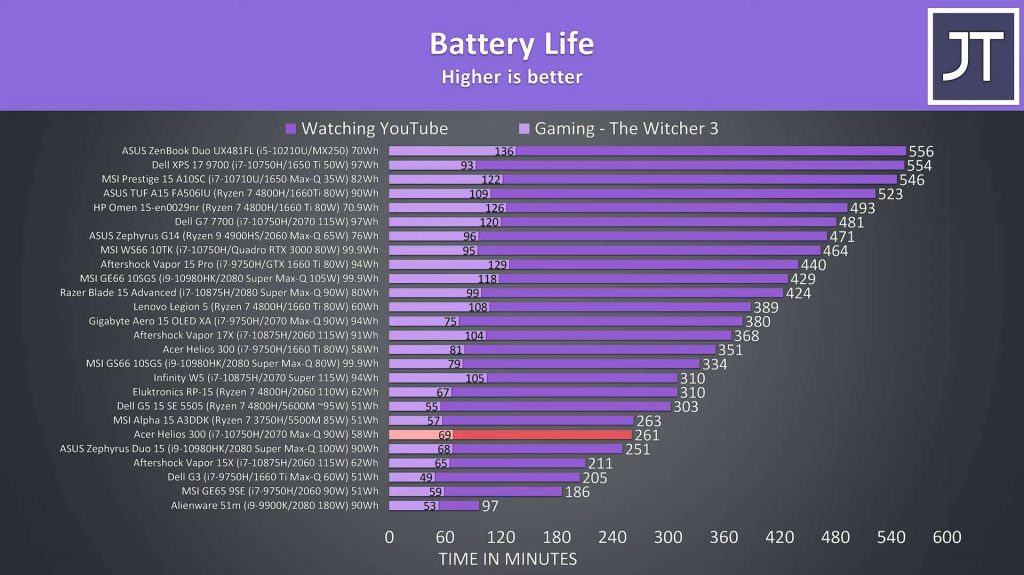 If we talk about the battery the Helios 300 comes with the same sized 4-Cell 58Wh battery as the last year. I've tested it with keyboard light off, background apps disable, and screen at 50% brightness. It lasted for over 4 hours in the YouTube playback test, so not quite as good as the near 6 hours I got with last year's model, though that one did also have lower specs and was undervolted.
I/O AND PORTS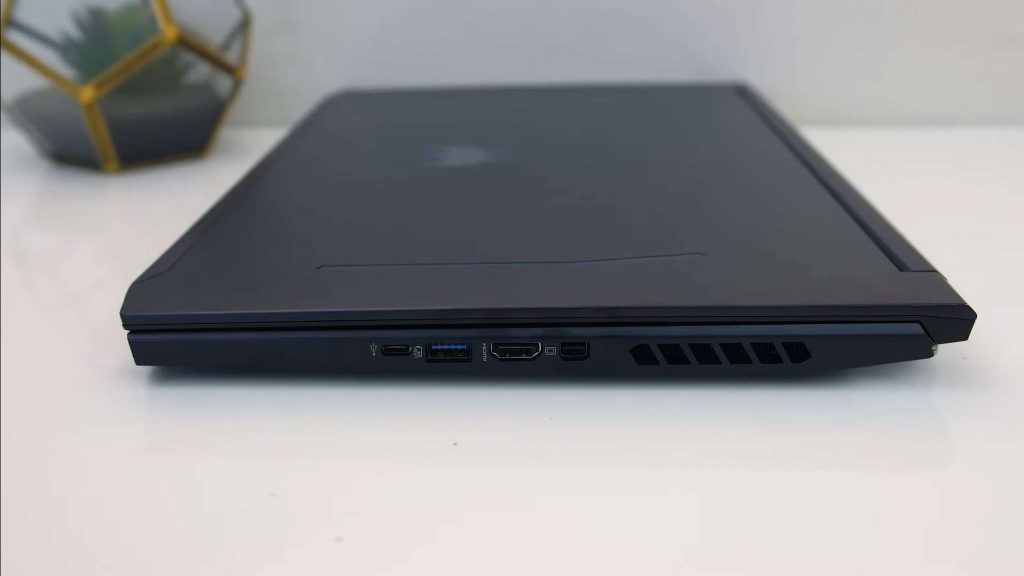 On the left, we've got a Kensington lock. air exhaust vent, gigabit ethernet, two USB 3 Type-A and 3.5mm audio combo jack, on the right from the front there's a USB 3.2 Gen2 Type-C port, a third USB 3 Type-A port, HDMI 2.0 and mini Display port outputs followed by another air exhaust. The Type-C port does not offer a thunderbolt, it cannot be used to charge the machine, and it does not offer display output. The Mini DisplayPort and HDMI outputs connect directly to the Nvidia Graphics, so VR should be possible.
Verdict
No doubt the Acer Helios 300 is one of the best gaming laptop, available out there if you looking for a gaming laptop and don't want spend more that $1000 or $1200 dollar so the Acer Predator Helios 300 is best choice for you but if looking for casual works so you choice another so you save some of your money and will easy to carry any ware.
I hope that article will help to know more and depth knowledge of Acer Helios 300 if you have suggestions related to the laptops let us know we will defiantly try it out and if face any issue in the laptop leave the comment we will surely try to solve your issues.
For The Latest Latest Activities And News Follow our Social Media Handles
Facebook:- Gadgetnotebook
Twitter:- Gadgetnotebook
Instagram:- Gadgetnotebook