If you looking for a mid-range gaming Laptop, So today we are taking a look at the MSI GL65 Leopard Gaming Laptop. The GL65 leopard is a mid-range gaming laptop from MSI, Now it's not the thinnest nor the lightest and It doesn't have crazy specs or a lot of RGB. It is just a typical gaming laptop that should just offer a lot of gaming performance in your budget. In this, you get different options at different price points. We have here six-core Intel I7-10750H with the RTX 2060 Max P which is always nicer to see than the max Q version, it has 16GB of RAM and 500GB of SSD with 120Hz IPS Panel for this particular model you have to pay around $1300 dollars in the USA.
| | |
| --- | --- |
| Modal | GL6510SEK284 |
| Display | 15.6-inch FHD 144Hz ISP Panel |
| Processor | Intel i7-10750H |
| GPU | NVIDIA® GeForce RTX™ 2060 |
| RAM | 16GB DDR4 |
| Storage | 512GB NVMe SSD |
| Webcam | 720P HD Webcam |
| Battery | 51W |
| OS | Windows |
Pros
Great GPU
Good keyboard
Build Quality
Cons
Average Battery Life
Webcam
Build & Design of MSI GL65 Leopard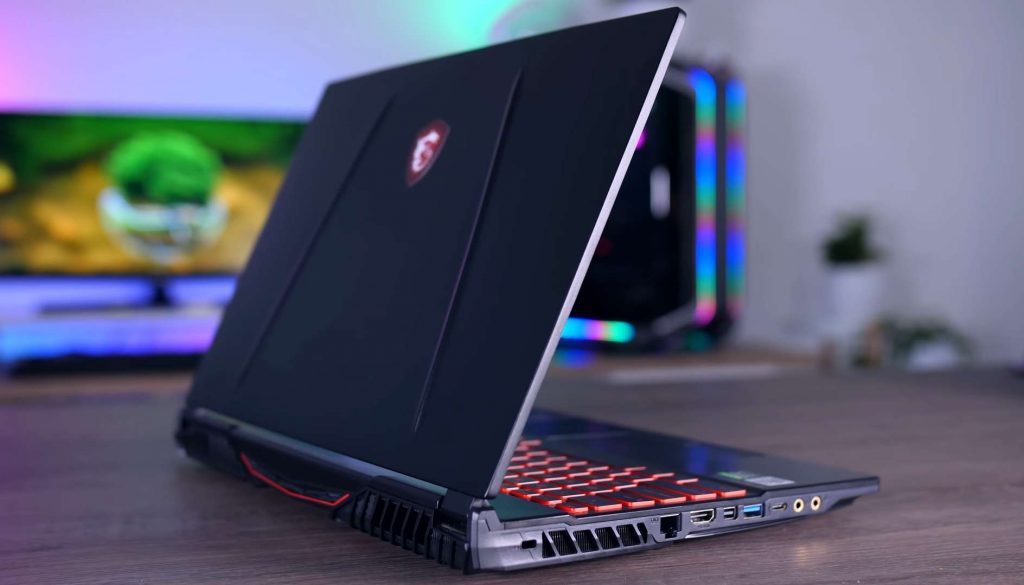 The MSI GL65 leopard looks and feels like a mid-tier gaming laptop, It weighs 2.3KG and it is 27.5 millimeters thick so it is definitely not the thinnest nor the lightest 15-inch laptop on the market. It has a very old-school look to it with those big vents and red details and red LEDs and the very visible red dragon logo on the back.
Now build quality mid-tier as well, The chassis is mostly plastic with a thin sheet of metal on the top cover. It is decent enough overall the hinges are sturdy the panel shows barely any flex but there is some flex in the keyboard it is very sensitive to fingerprints as well. Both on the outside as well as on the inside, so be prepared to clean it regularly now.
Display
The MSI GL65 Leopard comes with the 15.6-inch FHD 144Hz ISP Panel which is quite good. It is an entry-level gaming panel with a roughly 25 millisecond response time and a very poor color reproduction I measured only 50% SRGB Color Gamut, so it very hard to accept this from a $1300 dollar mid-tier laptop. It's going to be fine for casual gaming and office applications but it's not great for competitive play or anything that requires any level of color accuracy. Even though some other results of the display aren't really that bad contrast is good for example and the brightness is fine for most users they just don't stop this panel from being classified as poor.
Performance
The MSI GL65 Leopard packed with the 10th Gen Intel Core i7-10750H CPU processor and coupled with 16GB LPDDR4 RAM. The laptop comes with 512GB NVMe PCIe SSD storage, which translates to an impressive performance.
Let's Talk about the CPU the GL65 comes with the Six-Core Intel Core i7-10750H. which is a good and pretty fast CPU that does especially well in single-core performance. But in multi-core workloads, it gets beaten by the new AMD Ryzen CPUs. Which can be found in cheaper alternatives still it is more than fast enough for tasks. The laptop can easily handle multiple Chrome tabs coupled with a video editing session in Adobe Premiere Pro and doesn't let you down if you try to push it.
Now the CPU definitely doesn't hold back games and this is where this laptop just shines. It uses a proper 115 watt GeForce RTX 2060 and it is outperforming the other RTX 2060 laptops by a very nice margin as most are limited to 80 or 90 watts. You have no problems playing big AAA titles at high settings or light games at very high frame rates and if that's not enough you can decide to pay a bit more for an RTX 2070 or even RTX 2070 Max Q. But I think an RTX 2060 does hit a nice balance between performance and price.
Also Read:- Best laptop for girls
Keyboard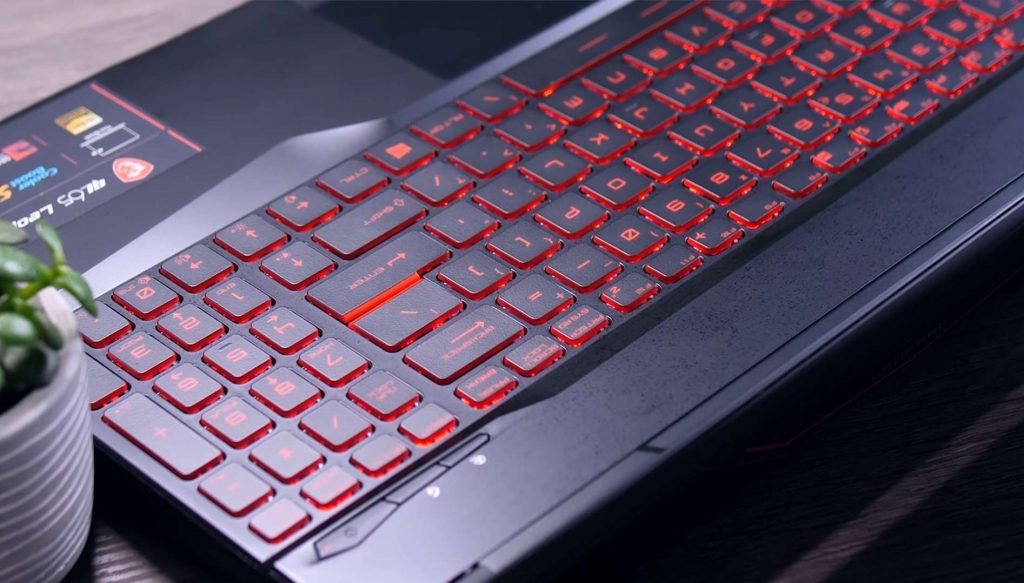 Let's talk about the keyboard of the MSI GL65 Leopard and the keyboard is nice to use. This particular model has a red keyboard with red backlighting but there are RGB Models available as well and this goes for both the GL65 and the GP65. Which is pretty much identical but with gray color on the inside instead of black.
Now the keyboard itself is really nice and used the actuation feels good both for typing and fast-paced gaming and I absolutely love that they included a full-size Numpad. There is a button for some turbo cooling on the top right and next to it there is another button that is supposed to open Dragon center software just be careful not to turn off your laptop.
The touchpad is a bit basic it is a precision touchpad with a plastic surface, It's pretty accurate and not really sensitive to accidental wrist contact and I personally like that they added dedicated buttons. But they are quite tough to press and they do have quite a bit of resistance to them so it's fair to say that it is not as nice as some of the new extra-large glass pads that MSI is using for high-end models.
Battery life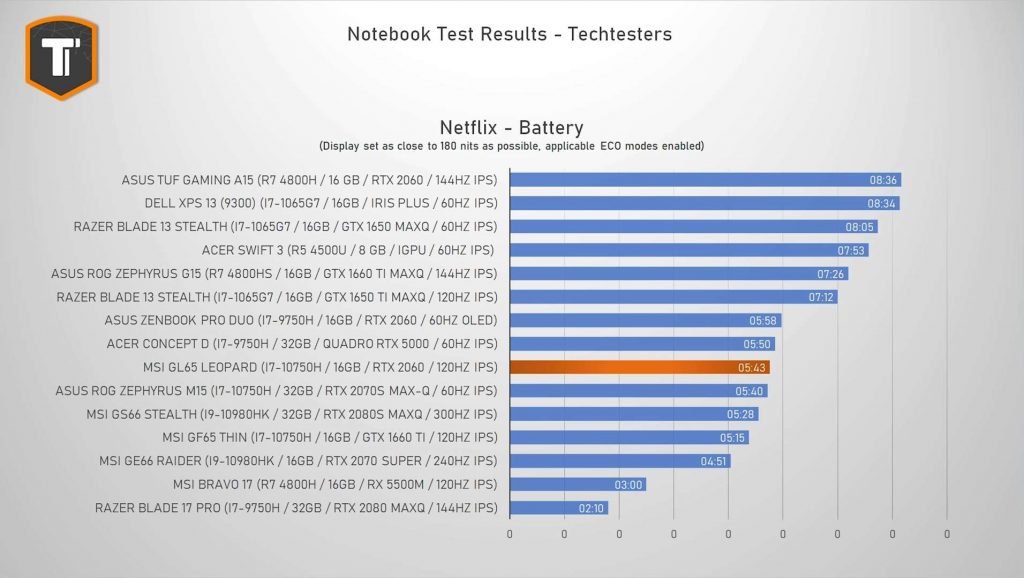 Now talking about the battery life of MSI GL65 while using we noticed that the battery life is not great but it also not that much bad as a gaming laptop. if you use that laptop for productivity you will get 4 hours and if you using a laptop for watching Netflix then you will get 4 to hours battery life apart of it while using only surfing the internet or browsing you will get 6 hours so that not that much bad as well.
Webcam
It has a 720p typical webcam which enough good for meeting and video conference but if we talk about the streaming, We suggested you to use external one for batter video quality.
I/O AND PORTS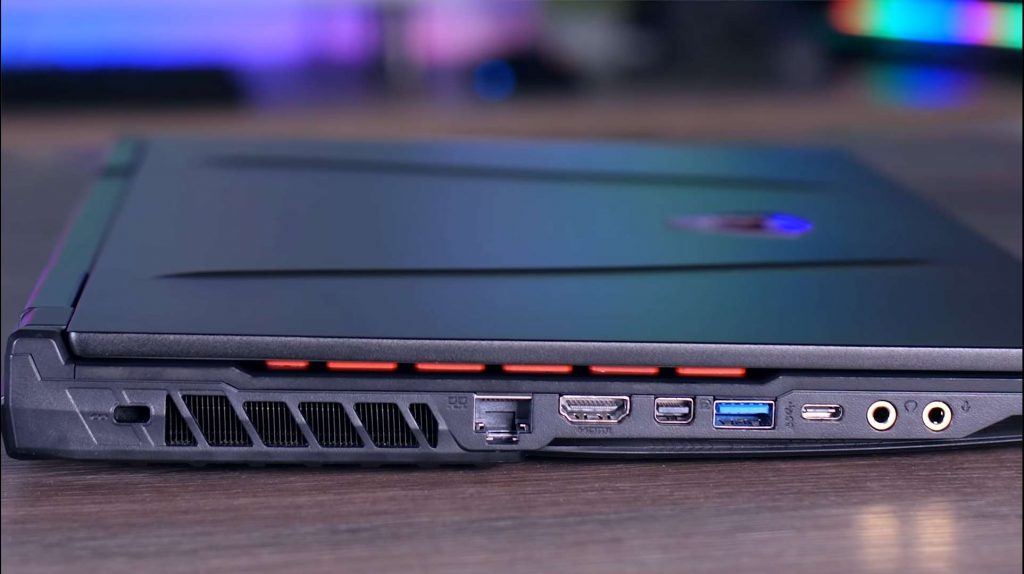 There are the right amount of I/O ports available in the MSI GL65 leopard. Now there is one fast USB 3.2 gen 2 Type-C port, 3 USB 3.2 gen 1 Type-A ports, A gigabit LAN an HDMI port a mini display port, separate audio and microphone jack, and a fast SD card reader. Now the only real thing missing here is thunderbolt support. The position of some of the USB Ports is not really that ideal. I mean plugging anything other than a small dongle into those front right.
Verdict
If we talk about the choice you will get a really decent gaming laptop with a good keyboard with nice upgradability and you do actually get more gaming performance out of this RTX 2060 than most others in this price class.
If you don't mind your laptop being a bit thicker and a bit louder and you don't want to spend more on something a bit fancier like a GS66. The GL65 Leopard is definitely worth it.
For The Latest Latest Activities And News Follow our Social Media Handles
Facebook:- Gadgetnotebook
Twitter:- Gadgetnotebook
Instagram:- Gadgetnotebook